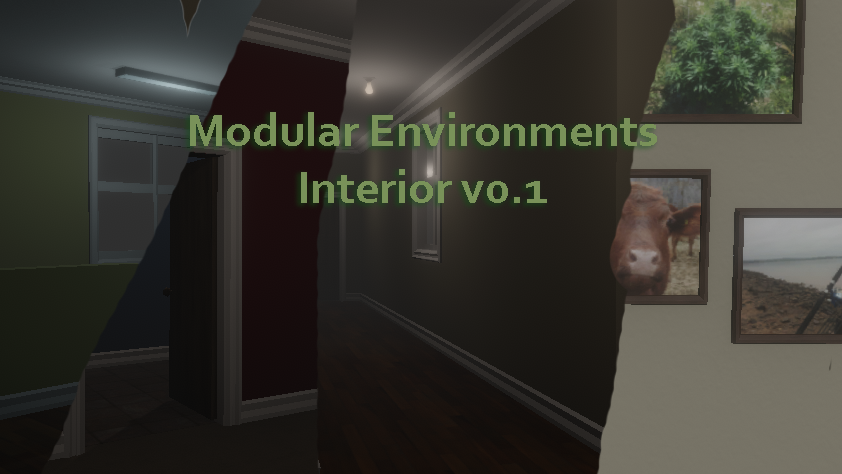 Modular Environments Interior v0.1
A downloadable asset pack
Get this asset pack and 8 more for $25.00 USD
View bundle
Modular Environments interior v0.1
Welcome to the first pack in my new series ; Modular Environments - Interior.
This Interior pack has over 60 models and prefabs, all with high quality textures and materials for use with Unity 3D.
Download the sample scene for free, to walk through and take a look!(simple level with usable doors and lights. No sound or special fx).
I have included the source file from Blender, so you can play with that if necessary.
In this first early release, you will find enough assets to build almost any configuration of rooms/floors for your project!

The walls use a simple texture set in which you can just change the materials albedo color to come up with an endless variety of wall colors. The trim material is used in much the same way, except it has little to no bump/normal mapping.
All of the modular pieces are best used with a snapping setting of 1m. Pro Grids is recommended for use in this process if you are using Unity.
Wall assets are 3m tall with varying widths, i.e... 1m, 2m, 4m etc.
All window objects have a separate "glass" object so you have the option to replace it with a "smashed" version or whatever your situation calls for.("smashed glass" not yet included!)
The floors and doors all have multiple texture sets, all with premade materials.
Included are a couple scripts, one for opening/closing doors and the other to turn on/off light switches/lights. To see how things work together, check the included demo scene.
This pack is under continuous development, so any "bugs" that may surface will be fixed as soon as possible, if a fix can be found!
I am really counting on your feedback to help me improve on this and future projects!
Tested with Unity 2018.4.1
Any questions, comments or requests are welcomed!
Purchase
Get this asset pack and 8 more for $25.00 USD
View bundle
In order to download this asset pack you must purchase it at or above the minimum price of $1 USD. You will get access to the following files:
ModularEnvironments_interior_v0.1.unitypackage
489 MB
Download demo